An alternative and simpler to install, is our Pitless Ongie. In this case we also supply a steel sub structure, supporting the grid, which is either placed on a bed of compacted fill or is fixed down to a level concrete slab.
We recommend to void round the unit is filled with concrete to improve retention and prevent movement. The sub structure is firmly held but the grid can still be removed to clean out the pit.
Alternative hold down arrangements can be provided when clients wish the grid to be fixed to the base. This is becoming our standard hold down treatment and will be provided unless otherwise stated. Holes are drilled into the concrete base and studs are placed and retained by resin anchors. The studs pass through the holes in the plates, washers and nuts are fitted and the studs are then trimmed to the exact length so they do not protrude beyond the nut.
The grids are securely fixed to the frame to minimise noise and permit removal for cleaning. Drainage is recommended to prevent standing water. Consideration should always be given to how stock can bypass any proposed cattle grid when being moved by the farmer. The usual arrangement is to provide an agricultural gate next to the unit and Cattle Grids for vehicle use are usually set level.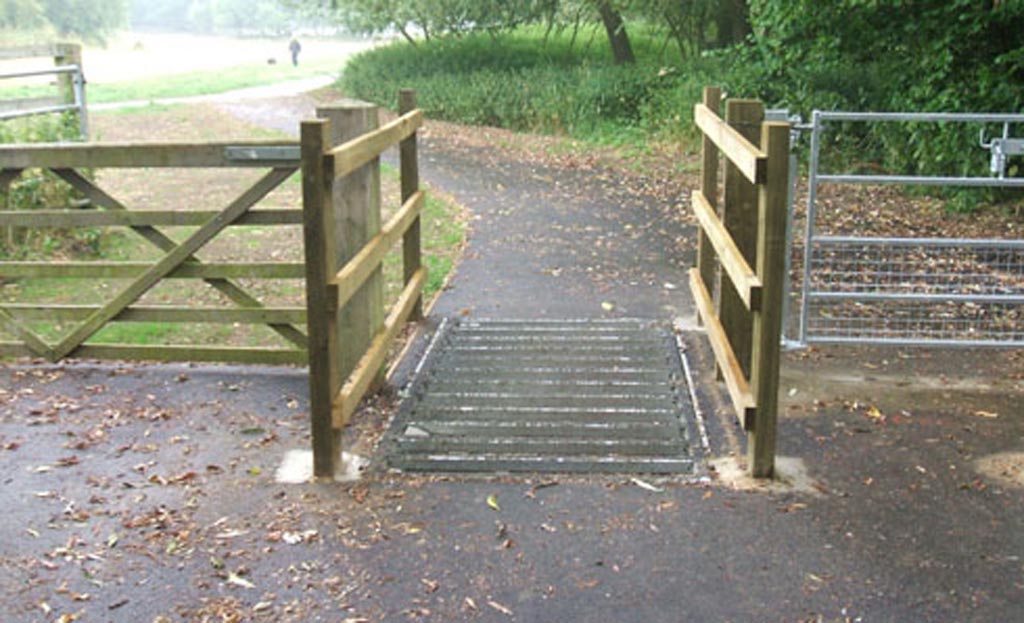 On cycleways with modest gradients the grid can be set to the same slope as the path, When locating units on a slope the drainage issues become a potentially greater problem. Water born soil and other debris can collect in pits more quickly. The siting of drain inlets in the pit bases need to take account of the fall for them to work correctly.